Jewelry Repair
Jewelry Repair Service For New Milford, Brookfield, Woodbury & Kent, CT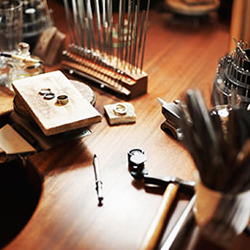 Robertson Jewelers offers in-house repairs, design and manufacturing jewelry services. Great care and attention is given to your jewelry repair. We carefully examine your items and advise you of the repair and service that will be needed to restore your items back to like new condition. We offer these services:
Free in-house Estimates
Cutting and polishing chipped diamonds and colored stones
Tipping prongs and prong replacement
Sizing platinum, gold and silver rings
Soldering breaks, installing sizing beads, and sizing spring bars
Basic and advanced platinum welding and ring sizing
Emergency removal of rings in platinum, gold, and silver
Soldering using both torch and laser techniques
Advanced chain repair, basic chain repair, chain braiding with soldering, jump ring solder, and charm soldering
Lobster claws, barrel clasps, spring rings, box clasps, and figure eight safeties
Earring posts, screw-back and post conversions, omega back repair, leverback drop conversion, and converting bracelet links to new earrings to match
Rebuilding bezels, seat and channel sets, gold link rebuilding, gold link addition and removal, and bail repair
Pearl and bead restringing
Insurance analysis and replacement quotes
Custom designed and handcrafted jewelry
Resetting diamonds and gemstones
Stone setting including tightening, channel setting, bezel setting, bead setting, and pave' setting
Rhodium refinish
Finishing including plating, enameling, and epoxy, polishing, satin finishing, matte finishing
Watch repair
Our shop is proud to offer jewelry repairs throughout the Brookfield, Woodbury & Kent, CT communities.
Repair Inspection:
Your jewelry will be reviewed with you, and the repair process will be explained. There are several techniques that will be used to dictate the procedure. Our staff will inform you of the best solution required to accomplish the task along with an estimate of time and cost needed to complete the jewelry repair.
Repair Task:
Jewelry is a very unique part of our store. Your repair will be completed with the utmost professional techniques so that it may be restored to like new condition. Only the best quality parts and supplies are used by our expert jewelers in our repair process.
Repair Completion:
Your jewelry will be inspected and polished to a fine luster finish. The repair is then complete and you will be contacted to inform you of its completed status. Lastly, we will review the repair with you and may also recommend a jewelry inspection schedule to maintain longevity.